On Target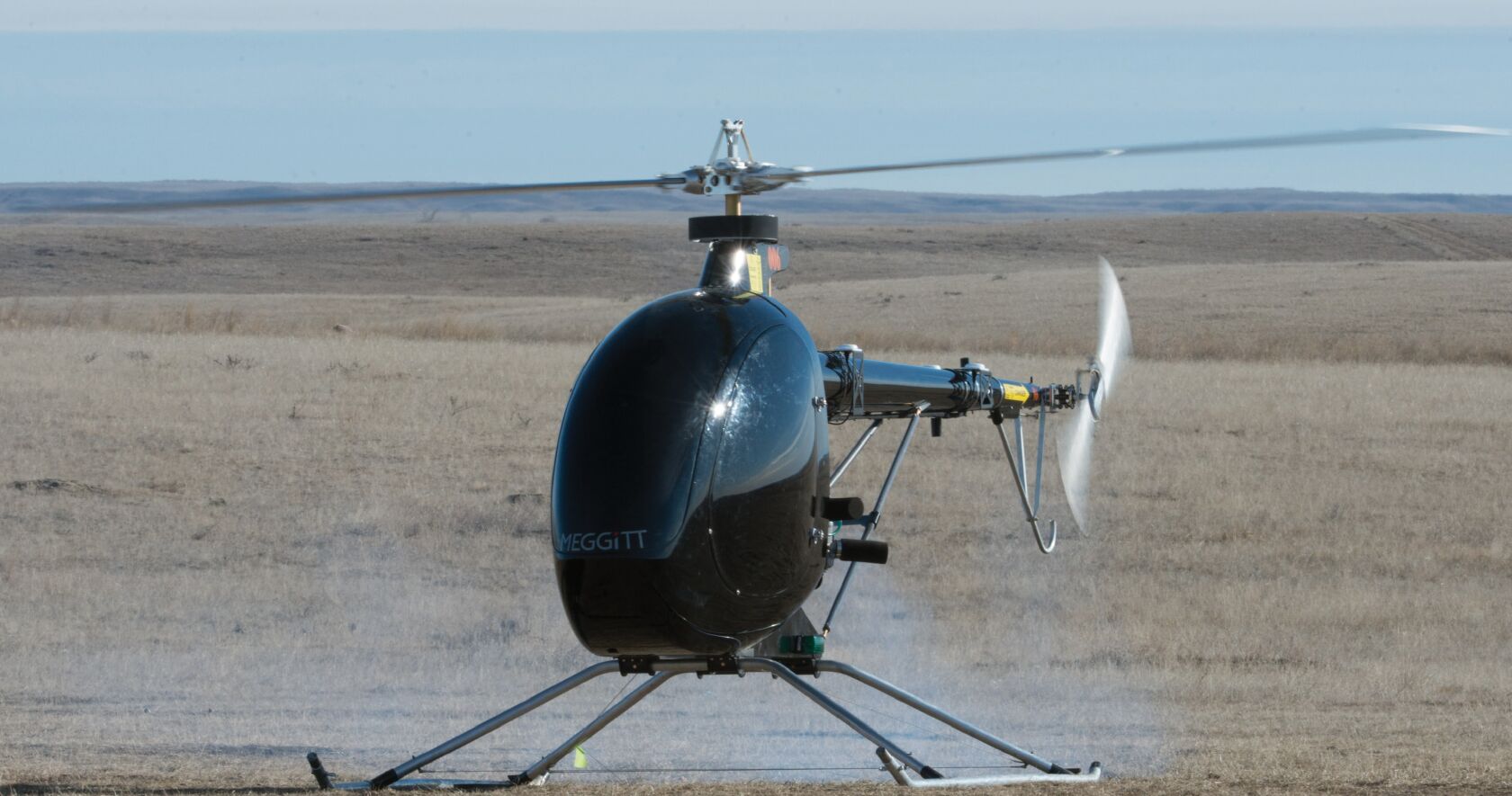 Attack helicopters represent a significant threat to armed forces, making proper training and system evaluation vital. Meggitt Target Systems, with the help of companies like NovAtel and other Western Canada–based manufacturers, develops the threat-representative targets and unmanned special mission vehicle platforms that make this possible.
In fact, for more than 30 years from its facilities in Alberta and the United Kingdom, Meggitt has provided unmanned vehicle targets for live-fire training and weapon system evaluation in multiple operational environments to armed forces in Canada and around the world.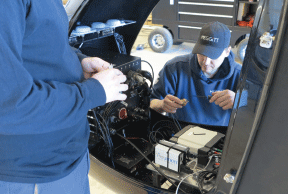 The company got its start in the early 1980s when Canada's Department of National Defence was looking for a way to independently test the systems they were building and buying, says Meggitt Target Systems business development manager, Vincent Malley. Defence program managers needed to ensure the platforms worked properly and turned to the Systems Integration Group at Defence Research and Development Canada (DRDC) Suffield. From there, the DRDC worked with Canadian industries to create a family of live-fire air, sea and land training targets for a variety of programs.
In 1983, the group's products were spun off to Boeing and eventually acquired by Rolls-Royce and later, Schreiner. Meggitt took over as owner in 2004 and, in 2015, combined two businesses—Meggitt Defence Systems UK and Meggitt Training Systems Canada—to develop Meggitt Target Systems.
"Together we now sell to over 40 countries and have manufactured over 10,000 unmanned vehicle systems," Malley said. "That's quite a significant number in this industry."
As Alberta emerges as a leader in unmanned systems technology, Meggitt Target Systems works with local companies like NovAtel whenever possible, reaping the benefits of having top-notch technology and Unmanned Aerial Systems (UAS) infrastructure manufacturers nearby.
How Meggitt Uses NovAtel
Meggitt Target Systems has employed NovAtel positioning products in various capacities for about 10 years, says Bryan Godbolt, Meggitt Target Systems flight control engineer. Meggitt typically uses NovAtel products for target platforms that require high-performance position capabilities, such as advanced decoy systems.
"We put more advanced products in our decoy and surveillance systems because they'll be around longer and need higher fidelity capabilities," Malley said. "We use the NovAtel products in our multi-role unmanned vehicle systems where we can put high performance capabilities into the platform to get the most use out of them."
One platform equipped with NovAtel's integrated GNSS+INS SPAN® system is the Mosquito Unmanned Helicopter Vehicle Target (UHV-T). The ultra-light, low-cost subscale target has the ability to emulate attack profiles for land-to-air based targets, air-to-air maritime helicopters and single or swarming unmanned helicopters. The Mosquito can be deployed from land or sea and is remote-controlled and operated by Meggitt's UTCS, a STANAG 4586-compliant control station.
Back in 2008, the Autonomous Intelligence Systems Section at Defence Research Canada, the Canadian Forces, and Meggitt were all interested in developing an unmanned rotary wing platform. While they all had their individual reasons for developing this type of system, they decided to come together to make it happen.
After researching the subject, the group determined it was best to model the new platform off an existing manned helicopter. This is something Meggitt has excelled at in the past, and the team knew that working with an existing system would enable them to develop the system much faster.
They found their inspiration in the form of the Mosquito XE helicopter from Innovator Technologies. Not only did this lightweight platform have the features and the capabilities they were looking for, Innovator Technologies is also based in Alberta—making it easy for Meggitt engineers to study the system first-hand while also giving Meggitt the opportunity to work with another Canadian company.
The first iteration of this unmanned helicopter essentially featured everything one would expect to find in a manned helicopter. Controls were removed and replaced with Meggitt's proprietary kit as new iterations were developed. During the process, engineers were faced with plenty of challenging questions, such as what changes did they need to make in the manned version to optimize control. They had to think about how to control the throttle and the choke, as well as how to interface with the cyclic and collective to control things such as pitch and roll.
Meggitt's relationship with NovAtel expanded during this development process, Godbolt said. The engineers needed a flight sensor with more capabilities than any system they'd used previously, and knew NovAtel was a trusted Canadian company with a wealth of experience in this area.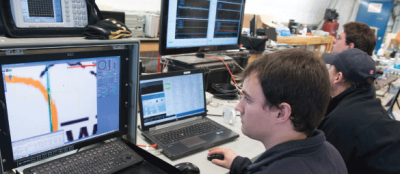 Using NovAtel's SPAN system, Meggitt collaborated with Defence Research and Development Canada and the NRC Flight Research lab to perform helicopter system identification as they developed the Mosquito. Through the project, the team worked to establish a dynamic helicopter model of the vehicle and to determine the relationship between control services.
"Changes in control surfaces have different effects over an entire flight envelope. The model relates this control surface motion to changes in altitude, roll, pitch and yaw." Godbolt said. "That type of modeling work is important for developing simulation capability and for developing a flight control system. For that type of work you want to have the best quality data you can afford."
The detailed computer model allowed the UHV-T to control itself in virtual simulations and provided the simulation baseline for hardware-in-the-loop autopilot development, Malley said.
Meggitt also uses NovAtel's ALIGN® firmware as part of the helicopter's flight control system, Godbolt said. The dual receiver's heading solution provides information that's critical for an unmanned helicopter. Unlike a fixed wing aircraft, a helicopter can move sideways, hover, or rotate. Because of that movement, it's important to be able to measure its heading directly. This is difficult to do reliably through other means, making this a very important technology for Meggitt's system development work.
"ALIGN gives us a sophisticated ability to get the heading measurement. It's not about the accuracy in this case. It's about the enabling technology that gives us a stable heading measurement in all phases of operation—static and dynamic. They're not the only company out there that does it, but they certainly do it very well, and it has worked very reliably for us. It (heading) is actually critical for flight control because the course is independent of heading. The vehicle could be facing north and traveling east. We need to know the vehicle's heading and direction of travel in order to fly it."
The Mosquito UHV-T isn't Meggitt's only target system that benefits from NovAtel technology. Meggitt has integrated NovAtel products across its f leet of unmanned vehicles, Godbolt said, and use the company's systems on other vehicles in a testing and evaluation role. This helps qualify the systems as well as provide customers with the detailed information they need about a vehicle's performance.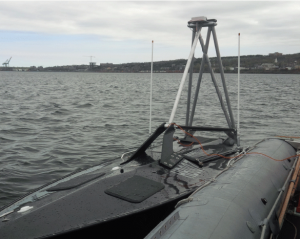 "The main benefits to us for test and evaluation is the accuracy and the quality of the NovAtel sensors," Godbolt said.
Meggitt recently used NovAtel SPAN technology to illustrate how the Humpback Unmanned Surface Vehicle (USV) handles in the ocean, Godbolt said. The Humpback is based on Meggitt's Hammerhead USVT, which is a cost-effective kill target that replicates Fast Inshore Attack Craft (FIAC) and multi-vehicle swarms. The Humpback shares many of the same features as the Hammerhead, except it's powered by a diesel engine and can be modified for specific payloads or special uses.
"This was an important stage in the development of the product," Godbolt said of the information they received from NovAtel's SPAN. "It allowed us to show how the boat is pitching and rolling as it travels over the waves."
The two-centimetre precise positioning is another huge benefit that NovAtel's SPAN provides, Godbolt said, and using the company's post-processing software, Inertial Explorer®, means achieving the two centimetres doesn't have to be computed in real time. The team can do that after the fact, which translates into a reduced need for communications infrastructure—saving time and money while still enabling the team to achieve the same precise positioning results.
Keeping it Local
Meggitt Target Systems works with local manufacturers such as NovAtel whenever possible, and even made the Mosquito
UHV-T's development a completely Canadian initiative. It's clear that as the unmanned systems industry continues to grow, companies in Western Canada are taking advantage of the opportunity this growth represents, and making their mark as innovators in this industry.
In fact, Alberta has emerged as Canada's leader in UAS development. More than 70 companies, military agencies and educational institutions are involved in some facet of the industry, including research, testing, development and manufacturing. This has been a huge help to Meggitt as the company works to develop its unmanned targets.
"Because of the terrain and business climate, it appears to us that a lot of these companies have been able to blossom," Malley said. "This technology can be used across various industries and must come with robust navigation systems and data links. Having companies that develop the UAS infrastructure in our own backyard has been a huge benefit to Meggitt."
While Meggitt turns to NovAtel for reliable positioning, Alberta's MicroHard supplies the data link that gives operators constant vehicle control, enhancing safety, Godbolt said. MicroHard's lightweight, reliable products are rugged and provide long range, high-speed links.
Lockheed Martin Canada CDL Systems, also based in Alberta, provides Meggitt with ground control station softwares. The company specializes in developing and licensing vehicle control station software for unmanned systems, and its open architecture, low-cost interoperable software product has been integrated into numerous unmanned vehicle platforms in Canada and all over the world.
Last year, Meggitt and Lockheed Martin Canada CDL Systems held a vehicle demonstration in Halifax, Nova Scotia, for the Royal Canadian Navy (RCN) and other key stakeholders. During the demo, Meggitt's Barracuda USV-T was controlled directly from the company's Combat Management System on the Halifax Class frigates. The team completed multiple missions to show how USVs serve as a natural extension of the technology already installed and maintained on the RCN's modernized frigates—demonstrating Canada's ability to deliver advanced, custom unmanned vehicle platforms.
Top-Notch Customer Service
No matter what company Meggitt is working with, quality customer service and support are important when collaborating with manufacturers to develop these complex systems. NovAtel is a well-known industry leader in Western Canada and around the globe; so, the team at Meggitt was confident they'd provide them with reliable solutions and services—and they haven't been disappointed.
NovAtel offers excellent customer service, Godbolt said, along with lifetime support. That means if you buy a receiver, you don't have to worry about paying extra for support, a fact both Godbolt and Malley see as a huge benefit.
"NovAtel will help you use their products even when something isn't working because of your own mistakes," Godbolt said. "They've been very good and supportive of our work."
Making their Mark
Meggitt Target Systems is proud of its history providing realistic military targets for military training and evaluation purposes and of the company's Canadian roots. Canadian companies like NovAtel are making a significant mark in the unmanned systems industry in their own country and around the world, a trend that's expected to continue as this market keeps evolving and growing. And this is all good news for Meggitt Target Systems, a company that truly benefits from this growth as it continues to design the critical target systems armed forces use for training and evaluation.