CAMCOPTER® S-100 UAS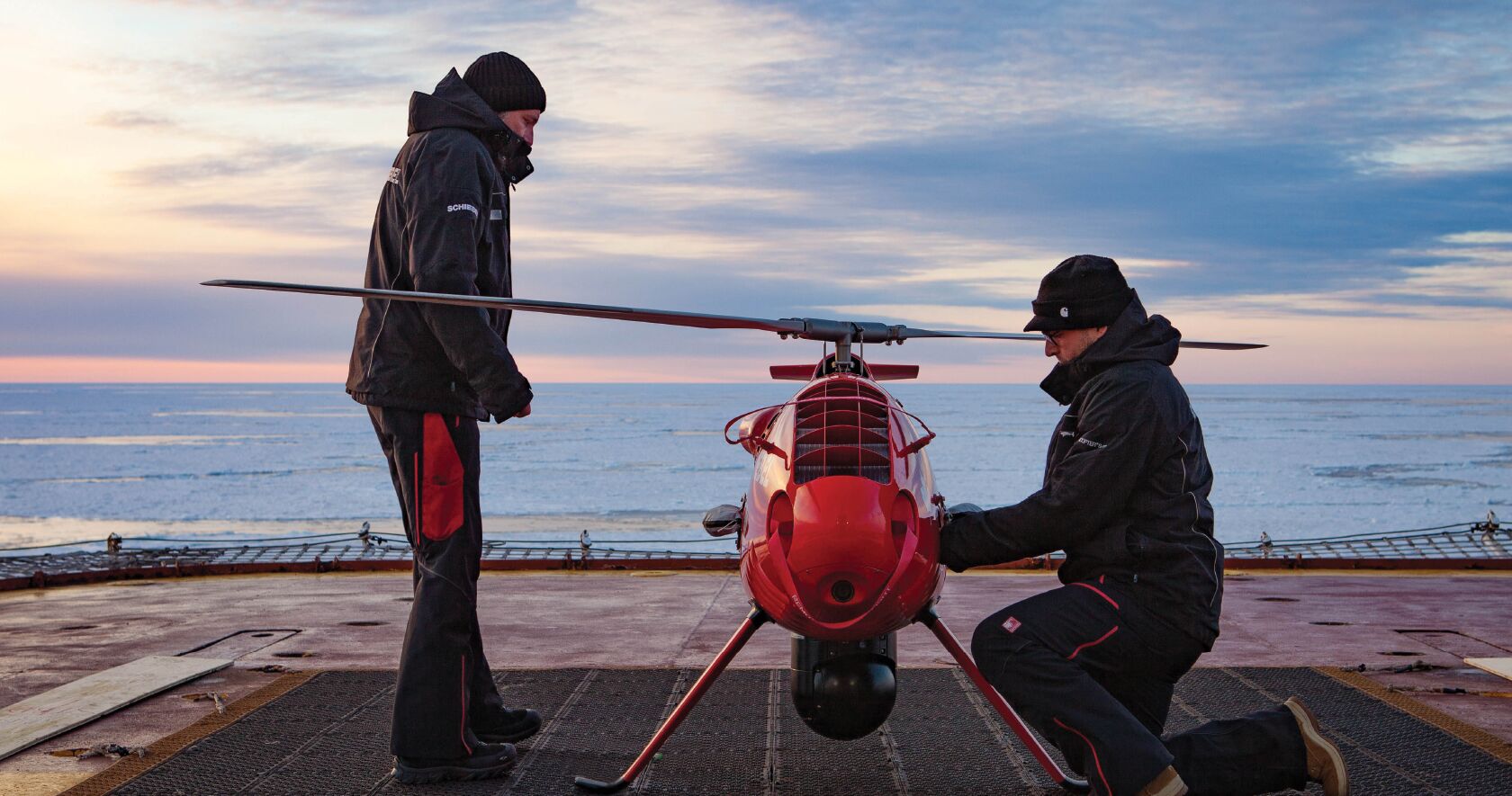 When jamming of a surveillance rotorcraft over a restive theatre of conflict threatened the UAS's GPS-based navigation system, a quick response from NovAtel and availability of the company's GPS Anti-Jam Technology (GAJT®) quickly restored the aircraft to its crucial mission.
The challenge came for Vienna-based manufacturer Schiebel Aircraft GmbH's CAMCOPTER® S-100, a state-of-the-art rotorcraft that makes for a highly versatile and fully autonomous UAS. "It's a compact helicopter that's able to accommodate a wide variety of payloads, tailored individually to answer our customers' specific requirements," says Chris Day, Schiebel's chief technical officer.
With its carbon fiber and titanium fuselage, the S-100 meets a wide range of haulage and endurance demands, up to a service ceiling of 18,000 feet. And with two payload bays, an auxiliary electronics bay, as well as two side-payload hard points the emphasis is on maximizing payload: up to 50 kilograms (110 pounds).
Other than small line-of-sight-only aircraft—at the "model aircraft" end of the business—accurate positioning is needed by all UASs for successful navigation, whether remote or autonomous. The CAMCOPTER® S-100 includes NovAtel's OEM628™ multi-constellation GNSS receiver as part of its Position, Navigation and Timing (PNT) suite. NovAtel GNSS receivers and antennas are also present in some of the intelligence, surveillance and reconnaissance payloads the CAMCOPTER® S-100 can carry.
Day says the vehicle's GNSS components represent its primary source for navigation data; so, the precise positioning delivered by NovAtel is fundamentally important to its safe and efficient performance.
"Because the CAMCOPTER® S-100 is a vertical take-off and landing system, there is no need for launch and recovery equipment or prepared sites," says Day, "and this means we can offer significant flexibility for use at remote, austere forward operating bases, or in the maritime environment, particularly on 'single-spot' vessels."
The UAS can be programmed to fly an autonomous mission profile via a simple point-and-click graphical user interface, or it can be directed manually to waypoints throughout the course of operation.
Day says the CAMCOPTER® S-100 has demonstrated its abilities repeatedly in both civilian and military applications. "The system is being used as we speak to obtain day-time and night-time video imagery in support of intelligence, surveillance and reconnaissance missions," he says, "and it has already proven its worth around the world in both land and maritime environments."
Indeed, the CAMCOPTER® S-100 is being employed operationally by a number of customers across several continents. Day says the majority of Schiebel's clients are foreign navies or other security-oriented organizations. The list also includes multinational organizations, and, of particular note currently, the Non-Governmental Organization (NGO) Migrant Offshore Aid Station (MOAS).
The CAMCOPTER® S-100's GNSS system is among the best in the business, but the UAS's operations were nevertheless seriously compromised in 2015 when it came under a sustained and hostile attack by GPS jammers.
"The jamming occurred while the CAMCOPTER® S-100 was undertaking a monitoring mission over a conflict-ridden territory," says Day. The CAMCOPTER® S-100 encountered persistent intentional jamming, rendering the machine largely useless. Something had to be done quickly; so, Schiebel called on NovAtel for help.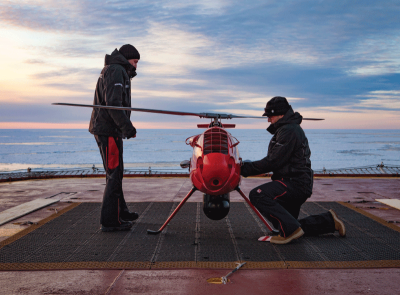 Peter Soar, NovAtel's business development manager for military and defense, picks up the story at this point.
"There are many types of interference and deliberate jamming, but all depend on power," he says. "The job of the jammer is to overwhelm the GPS receiver with power that swamps the very weak GPS signal. If enough jamming power is received then any system can be defeated.
"When the jamming incident occurred in the operational area, Schiebel was able to come to us for fast support," says Soar. "In fact, even though our GAJT-AE-N was only in low-rate initial production at the time, we were able to ship the necessary items within just days."
He says Chris Day showed visionary leadership. "He had kept on top of what was available on the market; so, when the need arose he was ready, and he wasted no time calling us," Soar says.
GAJT is a null-forming antenna system that ensures satellite signals necessary for computing position and time are always accessible. It comes in versions suitable for land, air, sea and fixed installations.
The technology provides anti-jamming performance comparable to much larger systems, but at a significantly lower cost. Easily integrated into new platforms, GAJT can also be retrofitted with the existing GPS receivers and navigation systems on existing and legacy military fleets.
Schiebel's Day says, "GAJT mitigates interference from electronic jamming sources by electronically changing how the GPS receives the GPS signal. It effectively switches off that part of the antenna that is being jammed, leaving the rest of the antenna available to receive the GPS signals and allowing the system to operate."
Soar explains that the performance of a system is the sum of the power cancellation from the anti-jam system—GAJT's datasheet performance is 40 decibels of cancellation—plus the cancellation benefits of other elements of the system such as the receiver itself.
The commercial "off-the-shelf" nature of the company's products allowed NovAtel to quickly deliver the requested GAJT-AE-N antenna control units, along with four-element Controlled Reception Pattern Antennas (CRPAs).
Soar says at least part of the credit for NovAtel's swift action should go to the Canadian Government. GAJT is subject to the Controlled Goods Program of Canada.
"That means we needed an export license," he explains, "the efficiency of this process made it clear to us that, in addition to protecting the national interests of Canada, the government is also committed to supporting its allies and industry by acting as swiftly as possible when necessary."
"All of the integration work, the GAJT and the CRPA, was done by Schiebel, Soar says, "with a little telephone and e-mail support from NovAtel."
In fact, this is a key selling point—GAJT is designed to be retrofitted. It works with any installed GPS receiver, whether it is a special encrypted military GPS receiver with a Selective Availability Anti-Spoof Module (SAASM), a precision or survey receiver such as the NovAtel OEM628, or even a simple mass-market receiver.
The NovAtel material was cost effective, lightweight, and easy to install, says Day. "And we greatly appreciated NovAtel's ability to respond to technical issues and rapidly deliver the hardware."
The end result was a quick turnaround, with Schiebel's customer able to quickly re-deploy the newly fitted CAMCOPTER® S-100 within a minimal timeframe.
Before the jamming incident, NovAtel had a fairly straightforward supplier-customer relationship, with Schiebel happily using NovAtel's standard GNSS receivers and antennas, with some limited support from the Canadian company from time to time.
But, Day says, "When the jamming issues arose, that's when NovAtel and Schiebel became true partners."
"As Chris says," Soar responds, "our relationship has deepened with the need to install GPS Anti-Jam Technology. As Schiebel was our lead customer for live deployment—others had conducted tests before but not deployed—it was necessary to work very closely with them. Schiebel have, in turn, provided some extremely useful feedback."
On the NovAtel side, portfolio manager Neil Gerein and Jerry Freestone, the company's chief engineer for antennas and anti-jam products, ensured that NovAtel operations were briefed on their customer's need, timescales, and readiness, and that quality and delivery targets were achieved. At Schiebel, electronics developer Dr. Andreas "Andi" Polzer executed the re-fit quickly and efficiently.
Since its collaboration with Schiebel, Soar says, NovAtel has been working to raise GAJTAE-N, and indeed the rest of the GAJT product range, to Technology Readiness Level 8 (TRL‑8) as a fully released product.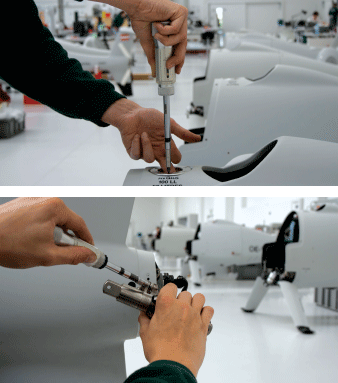 The unit is delivered in a self-contained enclosure designed with connectivity and thermal management in mind, Soar says, but manufacturers in aerospace, especially of smaller platforms like the CAMCOPTER® S-100, are obliged to balance performance against power requirements, and the size and mass of the package.
So, he adds, taking these considerations into account, along with specific feedback from Schiebel on the GAJT-AE-N, NovAtel is now actively developing a down-sized version in which the full enclosure is replaced by a rail system that still maintains the boards at the correct offset position and sees to thermal management, but in a smaller and lighter bundle.
NovAtel's GAJT-AE-N, with the necessary CRPA, is now being offered by Schiebel as a standard option to authorized customers who have a GPS anti-jam requirement.
Day says that the CAMCOPTER® S-100 is the only UAS in its class to be able to operate in GPS denied environments. It is certainly the only UAS in its class using GAJT at the moment in an operational deployment.
Schiebel was early to market with a winning UAS design, and have been successful both in engineering and marketing its capabilities. "And unlike some of their competitors," says Soar, "Schiebel has demonstrated the ability to build and deliver systems to quantity and on time."
As a medium-sized enterprise with around 230 employees, Schiebel easily goes head-to-head with big aerospace companies, and often wins.
"The bottom line," says Soar, "is that the CAMCOPTER® S-100 was grounded as a result of aggressive deliberate jamming while conducting vital operational missions. With GAJT fitted, it is now flying that mission again."