OEM7®: The Next Generation in Reliable Positioning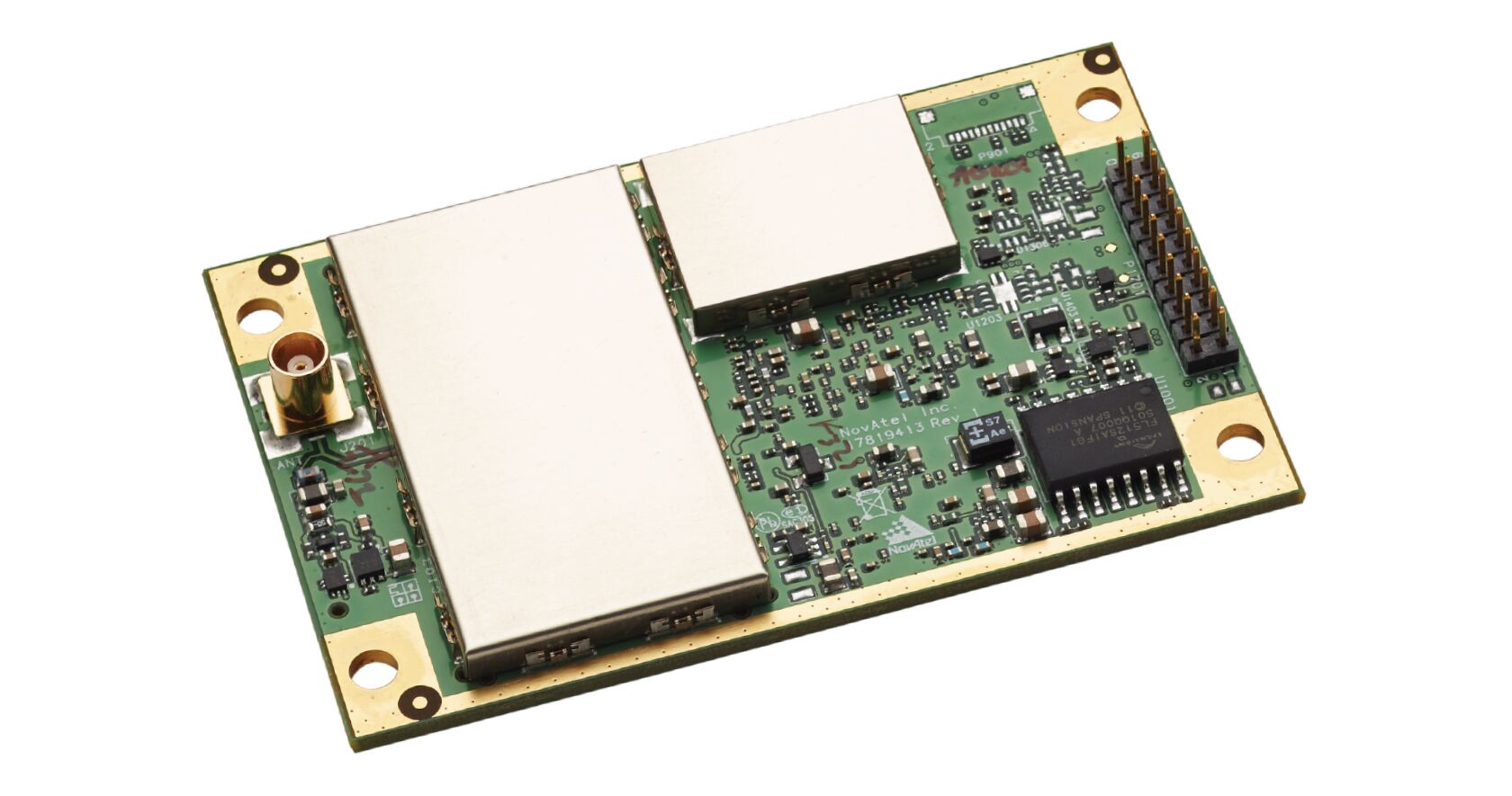 In recent years, the team at NovAtel has noticed a change in their customers' needs. They're seeing an increased demand for better position performance and satellite availability in every market they serve, from machine control to autonomous systems.
To meet that need, NovAtel engineers have been working to develop the OEM7, the company's next generation Global Navigation Satellite System (GNSS) receiver platform. The OEM7 delivers advanced capabilities that their customers require to perform even more demanding missions, such as Precise Point Positioning (PPP) and interference detection and mitigation capabilities to ensure customers don't lose their signal while out in the field. The Interference Toolkit™, which is based on a new Application-Specific Integrated Circuit design, (ASIC), has been in development at the Calgary office for about two years, portfolio manager Neil Gerein said, and is ready for prime time.
A More Robust Solution
When developing the OEM7, NovAtel not only had to think about traditional applications which need high-precision GPS, such as surveying, they also had to consider newer applications, such as unmanned systems, said Jason Hamilton, NovAtel's vice president of marketing. That meant the solution not only had to be flexible, it also had to be easy to use.
Luckily, this isn't the first time NovAtel has developed a product like the OEM7. The team took what they've learned from the previous six generations and made a receiver that truly meets all their customers' needs—whether they've used precise positioning for years or are just starting.
"NovAtel continues to make the system as robust and reliable as we can," Hamilton said. "Customers expect their positioning technology to work as expected, and that is what we are known for. The OEM7 has to deliver as promised."
The new OEM7 offers multi-GNSS, high-precision processing that can handle multi-frequency signals from GPS, GLONASS, BeiDou, Galileo, and Satellite-Based Augmentation Systems (SBAS).
In fact, the four-frequency OEM7 is capable of tracking all current and upcoming GNSS constellations and satellite signals, and has up to 555 channels that can be configured in multiple ways. "It's an important launch because of our customers," Gerein said. "As an Original Equipment Manufacturer (OEM), we exist to serve our customers. Our devices go into other people's products; so, we have to be able to meet their needs."
Beyond that, customers expect highly precise positioning in increasingly diverse environments. It just has to work, regardless of the physical environment or the RF environment, both of which can be significant challenges for high-precision GNSS receivers.
Precise Point Positioning
The enhanced OEM7 GNSS technology also comes with a variety of other features that NovAtel customers both want and need. Beyond the additional frequencies and signals, the receivers also come equipped with L-Band functionality. This enables satellite delivery of PPP correction data and allows for centimetre level positioning, even in the most complex environments, without the need for a Real-Time Kinematic (RTK) base station network, Gerein said. These types of correction services have become more robust over the years and are vital to customers in many of the new markets that NovAtel now serves.
NovAtel uses GNSS satellite clock and orbit correction data from TerraStar for its PPP services. TerraStar operates 80 ground reference stations located, around the world, with triple redundancies and uplinks to satellites so users anywhere on the planet can see at least two satellite beams, according to Gerein. "This enhances the number of places our customers can get centimetre level accuracy."
The Interference Toolkit
One of the most important additions to NovAtel's new OEM series is the Interference Toolkit, which can detect interference and jamming and then mitigate that interference and jamming with filters, a particularly useful feature for system integrators.
This feature is in response to the frequency spectrum getting more crowded with intentional and unintentional GNSS interference, Hamilton said. NovAtel is taking that problem on for the customer, and anticipates this becoming an even bigger problem in the future.
"We're starting to see either unintentional or intentional jamming wiping out GPS in localized areas," Hamilton said. "If you're relying on GNSS to control a vehicle, it's pretty dangerous when it cuts out. We need to make these systems as robust as we can in the face of that interference."
When customers integrate a NovAtel receiver into another system, the OEM7 has to work in close proximity with other things inside the customer's system such as other power supplies and other electronic circuitry, Gerein said. As GNSS signal processing moves into that more complex electronic environment, the receiver may encounter a harmonic signal that shows up as interference.
"Although they don't anticipate that in the design, when they begin to work in the lab to complete the integration they might see that interference," Gerein said.
Finding the source of the interference becomes a trial-and-error process in the system integrator's lab, and the customer has to use resources to debug the problem. That can take a lot of time.
"The OEM7 Interference Toolkit has a spectrum analysis function the integrator can turn on to see which GNSS frequency is experiencing interference," said Gerein. "They can say 'Hey, I see the interference in this band,' and then they can narrow in on the frequency."
The Interference Toolkit can detect self-interference (electromagnetic interference or EMI) from other components in a product or system. It enables integrators to look at the spectrum to confirm that a problem exists, determine where it's coming from, implement the filter to get rid of the interference and continue with the mission.
Not only does this feature save engineers and technicians the time and money it takes to find the source of the interference, Gerein said, it also gives them the opportunity to set up a filter during the design stage. This negates the need to add an external cavity filter later, which can also be expensive.
"They can modify the design, or, if it's a case where the interference is coming from the outside world, they can add a digital filter, which will remove the interference," Gerein said. "So for customers who use a cavity filter, which is usually a large expensive Radio Frequency or (RF) filter, they can set up a filter at design time instead."
The Interference Toolkit also offers a huge advantage when customers are out in the field, Gerein said. Often, integrators will notice they're not receiving GNSS any more or that the signal is degraded—which can be a problem if they're trying to perform a field trial at one of their customer's locations. Typically when this happens they have to bring the GNSS equipment back to the lab for analysis, which of course leads to frustration and wasted time. With the Interference Toolkit, they can fix the problem on the spot.
"System integrators work in multiple locations. If they get to a location and they're trying to do a job and can't complete a job because of signal interference, that's when this feature becomes important," Gerein said. "If you can mitigate against interference you can complete your job. It makes the receivers more robust while out in the field."
Other Features
OEM7 receivers are also available in smaller form factor cards for customers with size constraints,
Gerein said, and come with flexible configuration options for seamless integration. All product documentation is now online, which also helps make integration easy.
"There's a much more user friendly documentation suite that comes with OEM7 products," Hamilton said. "That means integrators have an easier time integrating the product into their application."
New integration guides also make it easy to upgrade from the OEM6 to OEM7, Gerein said.
"Ease of integration is the real key there," Gerein said. "NovAtel is willing to work closely with customers to ensure seamless, quick integration so they can realize their return on investment as soon as possible."
Each receiver can be used with NovAtel SPAN®, Gerein said, which couples the company's OEM precision GNSS receivers with robust Inertial Measurement Units (IMUs) for reliable, continuously available position, velocity and attitude—even when satellite signals are temporarily unavailable. SPAN technology has been used in many of the markets
NovAtel serves and helps with the integration of GNSS Plus.
Past generations of the receiver used a command line interface or PC application to configure the receiver and collect data from it. With the OEM7, a new interface has been added that allows users to configure the receiver and collect data using a Web browser.
When the NovAtel team decided it was time to upgrade the OEM6 receiver, it was a place they'd been before. After six generations of core OEM development, they knew exactly what was involved in enhancing this type of receiver, Gerein said.
Adding the necessary capabilities took a solid engineering focus and a dynamic team of engineers who worked on a variety of key components, including the algorithms, signal processing hardware and embedded software. The two years it took to develop the new generation of OEM technology is typical for this type of product evolution, and in that time the NovAtel team was able to achieve results that not only meet their customers' needs, but that also ensures the new OEM7 will stand out in the marketplace.
"The main differences between the OEM6 and the OEM7 are the channel count, the available processing cycles, and the ability to do more on the same platform," Gerein said. The end product boasts many new capabilities and is intended for all the vertical markets that NovAtel services, Gerein said. It's designed for a wide range of applications, offering customers robust metre-level to centimetre-level positioning solutions.
Putting the Customer First
As the leader in precise positioning solutions, customers turn to NovAtel for the company's experience, solid reputation and advanced solutions. That's why NovAtel is always enhancing products, looking for new markets to enter and listening to the customers they serve in those markets.
"Developing products like the OEM7 comes from a combination of listening to our customers, understanding their applications, and getting to know and accommodate the needs of customers in new vertical markets," Gerein said. "And from that we can think about and develop products that will best integrate into their platforms so they can in turn, enhance their return on investment."