Perception, positioning and a long haul approach to autonomy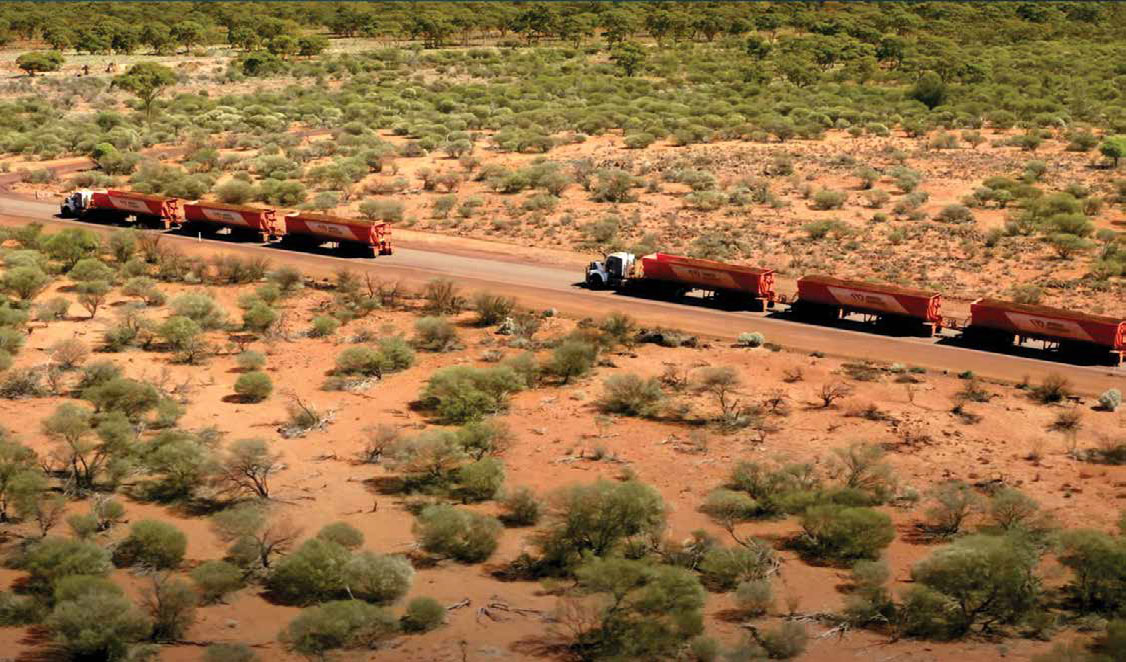 In the mining industry, extracting ore from remote regions is a challenge readily accepted and resolved—transporting that ore to customers is another thing entirely. Long haul driver safety has been a growing concern and recent labour shortages and rising ore haulage costs further exacerbate mine operation efficiencies, particularly in Western Australia.
About 29% of the world's iron ore is located in Western Australia, making it the world's largest producer of this rock. In fact, the Pilbara region annually produces as much or more than 800 metric tonnes per annum of iron ore, with nearly 82% of that material going to China.
Once extracted, the ore must be transported from the mine site to Port Hedland, a distance of over 200 kilometres (124 miles). The capital-intensive nature of creating a rail line leaves some mines with road trains as their only option. These road trains incorporate a manned prime mover truck pulling three trailers full of iron ore. However, the risk of travel-fatigued drivers manually operating road trains introduces considerable safety concerns. There is also a high cost of bringing people to the Pilbara region coupled with a shortage of drivers.
Autonomous technology offers an ideal solution to hauling concerns. Unmanned and autonomous systems are already an integral part of many mine operations, improving safety and productivity. Why not extend those abilities to off-road transport activities, a job that requires long hauls over 300 days a year to increase productivity and availability while enhancing safety and sustainability?
It's a question that Mineral Resources Limited, a mining services company based in Western Australia, is set on answering. The company partnered with Hexagon's Autonomy & Positioning division and Hexagon's Mining division in 2021 to develop the world's first road train with autonomous platooning capabilities—and the first phase of deployment is already underway with estimated cost savings in the millions.
A hive of interconnected systems
The multi-phased automated road train with autonomous platooning project requires a site autonomy system that is designed for safety, machine tracking and traffic management. Each road train will have the ability to operate without human intervention across the scope of action from loading ore at the mine to hauling to delivery of material at the port.
These autonomous road trains incorporate a vertically-integrated system that includes a drive-by-wire enabled prime mover incorporating layers of component and machine-level autonomy. The automated prime mover is coupled with site-level command and control systems not only to facilitate autonomous operation of the road train, but also interaction with other mining equipment to integrate with existing mining processes and systems.
Over the last year, Hexagon has worked closely with Mineral Resources to build and test the autonomous platform at an iron ore site in Western Australia.
Lee Baldwin, segment director for core autonomy at Hexagon's Autonomy & Positioning division, explained, "It's exciting to see a lot of the production systems that are in use today for manned operations utilised on a robotic system. We don't have to develop 100% of the system, but instead can leverage about 40% of what we have already proven."
In fact, Hexagon's Mining division has been in mine automation for more than a decade.
An existing system would leverage solutions like the HxGN MineOperate OP Pro LP, a fleet management system that orchestrates operations in open mines. It helps mines to better use their equipment, improve their workflows, reduce costs and improve productivity. HxGN MineOperate OP Pro HP is a high-precision guidance solution for dozers, drills and loading equipment. It enables loading equipment to improve bench elevations, reduce dilution and decrease rework. For dozers, the solution provides operators with easy-to-visualise design plans, minimising costs by eliminating the need for grade staking and survey crews. And for drills, the solution enables drilling to the right position and elevation the first time, every time. Then there's HxGN Split solutions, which manage fragmentation from drill to mill and pit to plant with advanced image-analysis techniques to quantify the effectiveness of a blast.
The HxGN MineProtect portfolio comprises solutions integrated with Hexagon's Collision Avoidance System (CAS), Operator Alertness System, Personal Alert (PA) and Vehicle Intervention System. There are more than 40,000 units of this portfolio at work worldwide—and the Hexagon team is using the foundation of that solution to support the autonomous platooning operations.
Baldwin confirmed, "We're leveraging a lot of these already developed and proven products and extending them to robotic platooning operation."
One platform autonomy
The heart of the autonomous platooning system is Hexagon's one platform autonomy technology stack, a solution that integrates drive-by-wire technology with an autonomous management system to orchestrate vehicle movement in road train haulage.
Baldwin said, "This is a one-of-its-kind implementation with three critical features: drive-by-wire, perception and positioning, and path planning."
Each prime mover's automated system will include Hexagon's CAS and PA for perception monitoring, coupled with Hexagon's MineOperate OP Pro and automation software used for control. Also, redundant ASIL D and electronic control units (ECUs) running all safety-critical checks and watchdog functions.
"We also have a range of technology to support vehicle-to-vehicle systems, as well as overall site management systems for accepting exception cases," said Baldwin. "These are fourth generation drive-by-wire solutions. We're taking the lessons learned from past advancements, hardening the components and getting the proper validation for autonomous operation."
The road train perception system relies on vehicle-to-vehicle communication with RADAR, where the instrumented vehicles around the road train will send its position to adjacent machines. The perception system uses ultra-wide band radios to determine the location of nearby tagged workers and other machines. "We tap into the steering, braking, shifting and acceleration systems, even the headlights, by reading and emulating analogue, PWM and digital signals," added Baldwin.
Safety is built into each subsystem. There are checks between connected subsystems as well as universal control command APIs with multiple CAN channels for vehicle data access. And the entire safety system is Failure Mode and Effect Analysis (FMEA) certified.
Andrew Crose, vice president, autonomy for Hexagon's Mining division, added, "One big adjustment has been the shift away from the legacy system's approach of server-based architectures, which are currently used by early generation in-mine autonomous systems. However, these have a high need for data and connectivity back to a server, which doesn't make economic sense across long haul roads that stretch in the hundreds of kilometres. With the advancement of onboard edge autonomy, we can go significantly greater distances without data access."
Positioned with confidence
The one platform autonomy solution also includes a GNSS localization system through the PwrPak7D-E2 from Hexagon | NovAtel with advanced OEM7 dual receivers and TerraStar-C PRO Correction Service.
Baldwin said, "Obviously, autonomous platooning is heavily reliant on accurate and continuous positioning. We need 10 centimetre (four inch) accuracy positioning on board, which we will achieve [using] the PwrPak7D-E2 receivers with corrections from TerraStar."
The PwrPak7D-E2 incorporates NovAtel's SPAN GNSS+INS technology that deeply couples inertial measurements from an internal Epson G320N MEMS IMU with satellite measurements. The system tracks all constellations across multiple frequencies for enhanced reliability while the road train travels through rural Australia.
TerraStar-C PRO is able to achieve a robust 2.5 centimetre-level (sub-inch) accuracy with convergence in as fast as three minutes across a satellite or Internet network. It's a system that will tolerate a few seconds of a GNSS outage thanks to the internal IMU. The specific length of time that the GNSS outage is supported will be validated in the field. Further, the integrated SPAN solution supports a wheel speed sensor which would extend operation in a GNSS denied environment for a longer period.
Jamming and spoofing challenges are also a long-term concern. "While we believe that jamming and spoofing are very low risk in Western Australia, we could enable our GNSS Resilience and Integrity Technology (GRIT) or other interference robustness solutions to help mitigate this activity," said Baldwin. As a firmware suite, GRIT would integrate smoothly into the existing hardware on the autonomous road train solution.
Crose explained, "Our focus is a consolidated tech stack with fewer components—one sensor set, one computing platform and one UI experience for a consistent look and feel."
The cost of connections
The first public demonstration of the triple-trailered, automated road train platoon was completed in April 2022. Each road train included one prime mover and three trailers, each carrying ~300 tonnes of iron ore about 100 kilometres (62 miles) with safety drivers. That's 900 tonnes per convoy.
The projected cost savings that can be derived from autonomous platooning are impressive when spread across a full mining fleet. Today, the cost to move one tonne of ore 1 kilometre is about 8 cents, which translates to about $2,400 USD for a one-way 100 kilometre (62 mile) trip loaded up to 300 tonnes.
Each prime makes at least three round trips per day, equalling $14,400 USD for the same 100 kilometre trip (assuming the cost is the same for unloaded trips). That's $4.7 million USD per year per truck assuming 328 days a year (90% utilisation).
By eliminating the driver and applying projected fuel savings, the estimated cost per tonne per kilometre reduces to 3-4 cents. A 100-truck fleet could see savings of up to $236 million USD per year using the autonomous platooning system. The automated road train solution also improves the safety of long-range haulage in Western Australia.
And it's not just Mineral Resources Limited that will benefit from the autonomous advancement. Once proven, the autonomous platooning concept could easily translate to other bulk haulage and defence industries.
The next production phase of the platooning project, set to begin later this year, will be semi-autonomous. There will be a driver in the lead haul truck followed by a platoon of autonomous haul trucks. Once safety and operational milestones are met, the driver will be removed and the platooning convoys will become entirely autonomous.
Baldwin concluded, "Full production of the one platform solution across a hundred trucks begins in 2023. At total capacity, Mineral Resources expects to have more than 140 automated prime mover trucks by mid-2024 with the goal of full autonomy by 2025."
Read the full PDF here: