Field of Dreams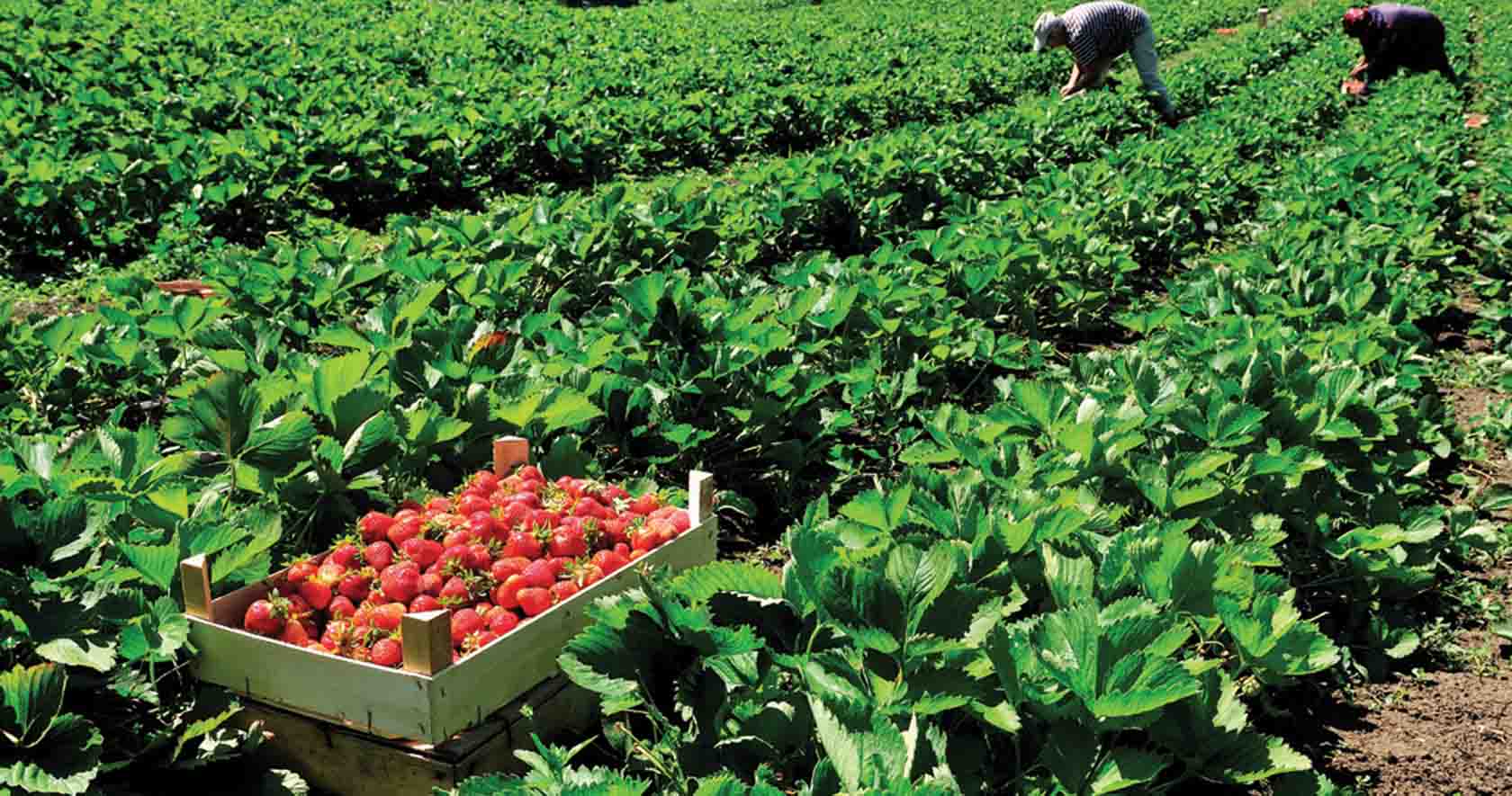 In New York in the late 1960s, due to supply and demand, seasonal strawberries were considered a luxury item that commanded $25 a pound in current U.S. dollars.
Today, U.S. consumers expect a lot more, and for a lot less. The pressure for farmers to responsibly provide affordable, fresh and flawless produce within short seasonal windows is higher than ever—and they rely on access to hundreds of thousands of skilled workers to do it.
But with recently shifting societal demographics and downward immigration trends, those workers are getting more difficult to find. According to a recent California Farm Bureau survey, the Golden State's $45 billion agriculture industry produces nearly half the nation's fresh fruits and vegetables. Yet more than 40 percent of farmers say they've been unable to obtain the labor they need.
That shortfall is also evident across other high-production states, like Florida, where Wish Farms CEO Gary Wishnatzki, a thirdgeneration strawberry grower, harvests strawberries year-round.
If something isn't done soon to solve the industry's dilemma, he said, the days of $25 strawberries are likely to return.
Planting the Seeds
Motivated by the threat of a dwindling workforce, Wishnatzki teamed up with Bob Pitzer, a submarine qualified Naval nuclear operator and Intel automation engineer, to find a solution.
In 2013, the two co-founded a start-up company, Harvest CROO Robotics, intending to disrupt the harvest industry without disrupting the strawberry farming market.
To do that, they decided to create a fully autonomous vehicle equipped with precise positioning technology. The vehicle can reliably navigate rows of strawberry fields while carrying 16 individual robot pickers.
As Pitzer (who became the start-up's chief technology officer) got to work assembling an impressive board of advisors and a team of capable engineers to build the prototype, Wishnatzki said it occurred to them that their endeavor could offer advantages to the entire agriculture industry.
"It became evident to me very early on that it was something much bigger than my company," Wishnatzki said. "So, I went out into the industry to try to get support from my competitors, because we were all having the same problem."
To date, Harvest CROO Robotics has garnered support from 70 percent of the U.S. strawberry industry, including such major players as Driscoll's, California Giant Berry Farms, and key marketers across California and Florida.
Harvest CROO Robotics doesn't plan to sell their robots. However, they'll charge growers to use them, similar to how growers pay for harvesters now, so business models don't change.
"It makes a lot of sense for growers," Wishnatzki said. "They don't have to have a large capital expenditure and they're able to continue to do business the way they are now, but without the constant worry of searching for labor."
Inspecting Technologies
In order for their robots to manage the delicate task of berry picking as efficiently as their human counterparts, Wishnatzki and Pitzer knew the approach would be highly technical.
While the engineering team developed the prototype, they focused on optimizing the individual elements of harvesting. Instead of using a single robotic arm to accomplish each task that a harvester performs, they developed multiple robotic components for each activity, such as leaf-gathering, visual inspection, picking and packing.
Other innovations were also developed. Stereo vision and high-powered video processors proved capable of handling hundreds of images per second. An algorithm could determine the ripeness of the fruit using different light spectrums—something Wishnatzki said they're now able to accomplish with 98 to 99 percent accuracy.
When it comes to handling the critical navigation requirements of the autonomous vehicle, the team relies on Hexagon | NovAtel® end-to-end solutions for assured positioning. NovAtel provided Harvest CROO Robotics with two SMART 6-L ™ SMART Antennas capable of offering a single-frequency GLIDE smoothing algorithm for repeatable pass-to-pass accuracy, and a dual-frequency Precise Point Positioning (PPP) algorithm using GNSS satellite clock and orbit corrections to deliver more robust centimeter-level positioning.
Tanner Whitmire, Business Development Manager for agriculture at NovAtel, said the accuracy level will allow the autonomous robotic machine to effectively drive down a row
of strawberries without damaging crops.
"This state-of-the-art positioning technology is key to ensuring the accuracy of the vehicle's location over time," he said. "When it goes back to harvest throughout the season, it will know exactly where each strawberry plant is based on its previously recorded location."
Harvesting the Future
When asked what Wishnatzki considers success for Harvest CROO Robotics' bold venture, his answer was simple: parity with humans.
"When we can clear the same percentage of berries off a plant as a human can, we can declare success," he said. "And we'll really be successful when we exceed it."
When they do, they will have solved a key challenge in the berry picking industry—and, perhaps for the larger agriculture industry, to the extent that their technology solutions have the potential to migrate into adjacent agriculture-market sectors.
Much like the adoption of GPS and all the myriad application segments that are using positioning technology across the transportation, marine, agriculture and construction industries, Wishnatzki sees a potential market for his robotics across other application segments.
In the meantime, however, he's focused on berries.
He believes the technology his company is developing will not only solve the labor shortage, but will create opportunities for the consumption of strawberries to grow on a global scale. "The U.S. is a low-cost producer of strawberries and that's why consumption is so high here, so there's a lot of potential," he said. "The industry for harvesting strawberries in the United States alone is over $1 billion a year, and somewhere around $3-5 billion worldwide," he said. "If the rest of the world ate strawberries like the U.S. eats strawberries, it would be $20 billion."
Finding the Sweet Spot
As the most recent harvesting season comes to a close, the team is now combing through metrics and strategizing how they plan to roll out the technology in the future. They plan to commercialize their Rev 1 model next year, with the goal of introducing their first vehicles into Florida and California.
With a compelling mission, a prototype at work, the right cutting-edge technology and twothirds of the U.S. strawberry industry invested in Harvest CROO Robotics, Wishnatzki says they've embarked on a truly collaborative effort.
"We've got some top engineers working with us on this, and we've got a master strategist with Dr. Joseph McGee," he said, referring to the company's new CEO, formerly a chief strategist and M&A leader at Jabil, a $25 billion contract manufacturer and Fortune 100 company. "He's not only bringing the knowledge and the manufacturing expertise, but also the resources, so we're really excited to have him on the team leading the commercialization effort."
Once the vehicle is commercialized and funding is fully realized, Wishnatzki said the team will have the valuations it needs to define its strategy moving forward.
"Every indication we have is that we have a significant cost advantage, so it's going to be an interesting dynamic over the next couple years," he said. "At the end of the day, growers just want an affordable, dependable solution so they can get their crops out of the ground. Then, of course, our investors want to make a return on their money, so we've got to try to satisfy both. There's a sweet spot in there somewhere—no pun intended."