Reliable GNSS helps Renesas make the right first Impression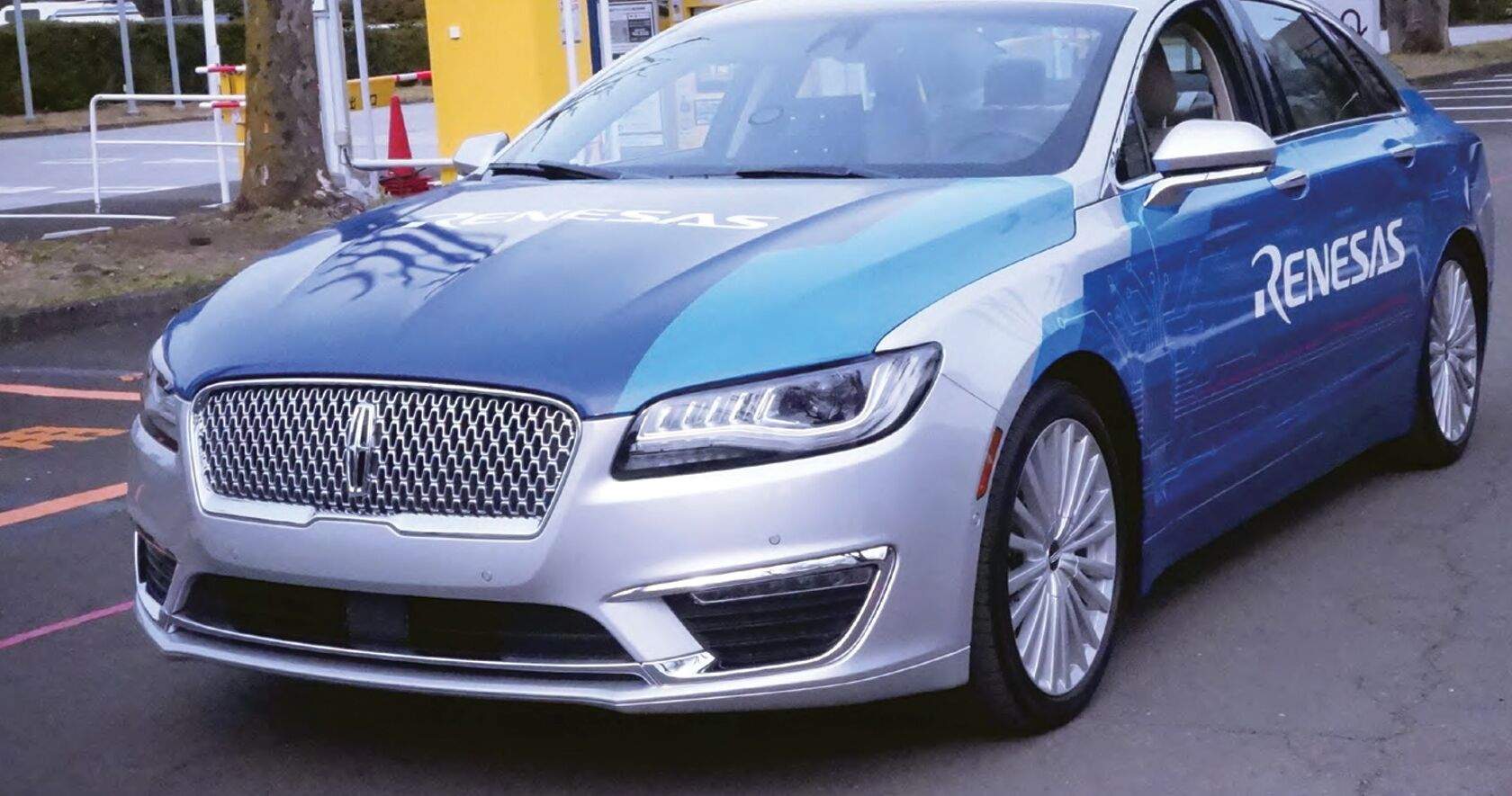 When the team at Renesas Electronics, an embedded design manufacturer of semiconductor processors for automotive, decided to demonstrate the company's new self-driving car to the Japanese media for the first time, they knew they couldn't afford to have any problems related to Global Navigation Satellite Systems (GNSS) interference—especially after dealing with signal loss at the Consumer Electronics Show (CES) earlier this year.
That's why they turned to NovAtel® to complete a site survey before the April media demonstration, which was held during the company's DevCon tradeshow in Tokyo.
The Tokyo location, which is where Renesas is headquartered, presented its own set of challenges, but with help from NovAtel, the team was able to overcome them.
Renesas has worked with NovAtel for about a year, and uses a SPAN® GNSS/INS package that includes a dual-antenna ProPak6™, an IMUKVH1750 and VEXXIS® GNSS-502 antennas to deliver a cm-level GNSS positioning, heading and vehicle orientation solution. NovAtel used the Interference Toolkit (ITK) to perform site surveys and assess the risk of GNSS interference disrupting the company's self-driving car demo in Tokyo. The ITK was used to monitor and identify GNSS interference.
"From the technology standpoint they (NovAtel) have, from what I've seen, it's the best solution available for GPS," said Craig Johnson, Senior Manager, Silicon Valley Automotive and ADAS at Renesas. "They can support multiple channels and have a solution for loss of signal, it's a very robust solution. And they're very concerned about safety. If the signal fails or if there's an issue, it indicates to the system that something failed and why. You're not left wondering why you don't have GPS, and that's important for safety."
Selecting a site for the demonstration was actually a pretty difficult task, Johnson said. Unlike the U.S. or Canada, Tokyo has very few large parking lots or empty spaces that can be turned into a temporary track. The team also needed to find a space that wasn't too far from the company's office or the tradeshow, and that was actually available on demo day.
They spent a lot of time looking at Google satellite images of potential parking lots, Johnson said, trying to find valid options. Renesas shared the possible locations they'd spotted with Applications Engineer Bryan Leedham and his team at NovAtel before they traveled to Japan, and based on their recommendations were able to narrow the list even further.
"We had two locations and both locations had issues that could generally cause problems with GPS," Johnson said. "One was in a parking lot next to our building, which is tall, so signals being blocked by the building was a concern. The other site was under a bunch of trees, and also had a tall building on one side. There were definitely concerns GPS signals would not work in these locations."

Caption:
Leedham and the NovAtel team performed a traditional GNSS survey, assessing signal quality and tracking availability at both locations.
The ITK makes it possible to understand what's going on in the GNSS spectrum in the environment in which GNSS is being operated, Leedham said, which wasn't really available in the past. Traditionally, it required troubleshooting to determine why there was drifting or why you were having difficulty locking on, among other issues.
In Japan, NovAtel used the ITK to analyze the spectrum in the test sites. A spectrum analyzer that's built into the receiver told the team what they needed to know about the L1, L2 and L5 GNSS bands—in real time, and without expensive spectrum analysis equipment.
During the surveys, Leedham did notice different types of interference at both sites, including a discrete spike popping in and out at 1600 MHz. Leedham measured the power level at different directions to get a better idea of what they were dealing with, and determined the interference was likely coming from a city-wide broadcasting signal.
Based on the information they received from NovAtel, Renesas selected the Tokyo Prince Hotel for the demo location. While Leedham found some interference was present, he wasn't worried about it impacting the ProPak6 SPAN performance.
Not only did NovAtel help Renesas choose the best low risk site for the demonstration, Safety Critical Systems Applications Engineer Kevin Doherty was on hand during the days leading up to the event to assist with setup. He was also there during the actual demonstration to provide support if any GNSS related issues came up. This enabled the Renesas team to focus on their own integration and what they needed to do to complete a successful demonstration—which they did, with absolutely no GNSS issues slowing them down.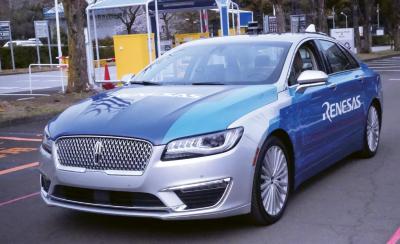 Throughout the day, the vehicle drove media professionals around a fairly tight path outlined with red markers, never deviating or experiencing any interference issues, Doherty said. The path was filled with various situations the vehicle would encounter in the real world that it had to identify and address, including a traffic light. Through vision technology, the autonomous car could tell which colour the light was and determine when to slow down, when to keep going and when to stop. The path, which the vehicle completed dozens of times, also included a stop sign and a non-moving vehicle.
"We had another car on the track, so if the GPS reference was off those two cars would have hit each other," Johnson explained. "The stop light was telling us its location, so again if the signal was off the vehicle wouldn't stop at the proper spot."
The goal of the demonstration was to show the Japanese market what Renesas is achieving in the area of driverless cars, which is a new market for the company. With Doherty and his team there to provide support, Johnson said he was confident that even if any GPS related issues came up, NovAtel would be able to quickly find a solution.
A Trusted Partner
In the short time Renesas has worked with NovAtel, Johnson and the rest of the team have learned a lot about GNSS from the experienced solution provider. Any time they have questions or concerns, they know NovAtel will provide them with the necessary support—even if it means traveling from Canada to Tokyo to help them properly prepare for an important, high-profile demonstration.
And NovAtel has learned a lot from Renesas as well, said Allan MacAulay, Business Development Manager, Safety Critical Systems.
"They're already a leader in the automotive industry and they're staking out a unique leadership position in their approach to autonomous vehicle technology and sensor fusion," MacAulay said. "Being able to interact with a leader to get exposure and experience in the advanced early stages of self-driving and autonomous vehicle technology is very exciting for us. We're learning a lot from them along the way while also contributing to their platform. It's a good partnership because we bring different skills to the table."
MacAulay also has been impressed with the company's continued focus on safety and security, he said. As the Renesas team builds on the technology and capabilities they first unveiled at CES, safety remains a top priority.
Renesas has plans to hold more demonstrations in the future, Johnson said, and is currently working with NovAtel to ensure their next big event is a success: CES 2018.
That demonstration will involve live driving on the roads of Nevada, Doherty said, and NovAtel will be there again to ensure everything goes smoothly, just like it did in Tokyo.
"If we learned anything from this event, we learned that NovAtel is perfectly aligned with Renesas as a partner," Johnson said. "They make high quality, functionally safe solutions, and provide extraordinary customer service."