Smarter. Faster. Leaner.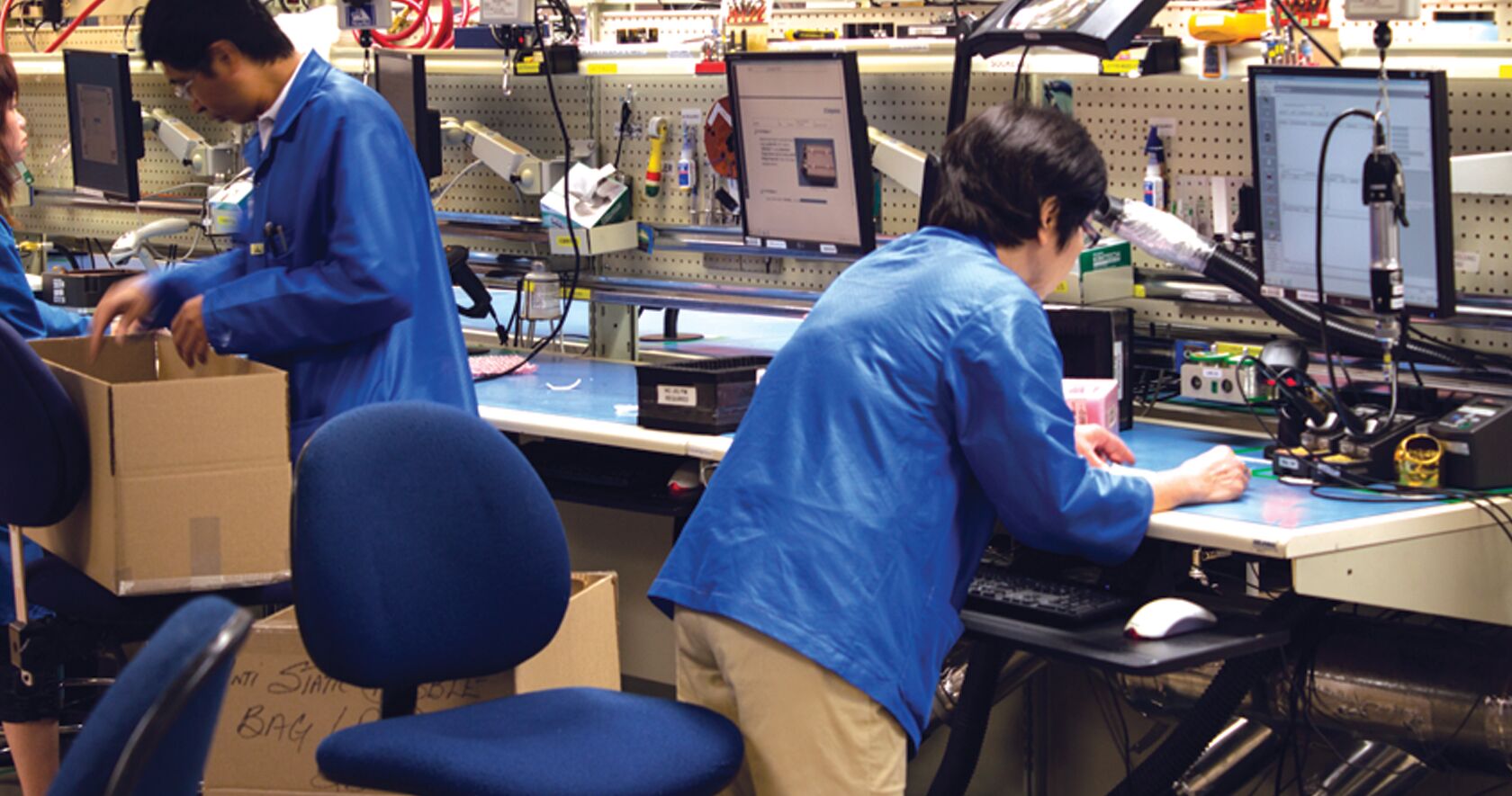 Lean Manufacturing, a business management system made famous by Toyota, is helping companies around the world shave overhead, boost production, and speed new products to market-all while improving service to their customers.
According to Chet Marchwinski, director of communications at the Lean Enterprise Institute in Cambridge, Massachusetts, lean manufacturing "typically requires half the human labor, half the capacity, and a fraction of the development lead time of other mass production systems."
The basic idea behind lean manufacturing is that companies can boost their productivity and generate more revenue using the resources they already have in place, says Derek Lothian, national manager for communications at the Canadian Manufacturers & Exporters trade association (CME). Mike McAloney, NovAtel's vice-president of operations, says, "NovAtel works within its own definition of lean, which is to continuously eliminate waste so that every step in the manufacturing process adds value to our customers."
Back to School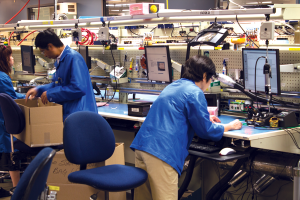 Achieving those payoffs, however, requires a paradigm shift in how a firm handles its work processes and manages its relationships. The one clear rule for achieving that shift is making every decision based on "value," says McAloney, with value defined "through the eyes of the customer."
"We look at a process and tear it apart into its component pieces," he explains. "We look at every one of those pieces and say 'What kind of work is it?' Is it value-added work that the customer would willingly pay for? Or is it a business non-value-add we have to do, maybe for regulatory reasons? Or is it just plain non-value-added work...We are trying to eliminate those pieces of work that the customer wouldn't willingly pay for."
For NovAtel, the decision to adopt the manufacturing approach 10 years ago bolsters its remarkable growth story since then.
Faced with a surge in its GNSS business that almost overwhelmed its traditional manufacturing processes, the Canadian firm turned to lean manufacturing to help it through its growing pains. Starting from a point where it was struggling to address quality issues and deliver products within weeks, the company now has a product quality that is two to three times better than the industry average and a 95 percent on-time delivery rate for its products.
What is particularly notable is that the company's definition of "on time" has changed over the past decade. Customers are now the ones setting delivery dates-and 70 percent of them want product the next day, according to McAloney.
"It all started in 2003," he says. The company was just starting to break into the GPS business and getting some great traction.
"But we could see the orders coming in, and we could see the new products coming from design, and we knew we were in trouble," McAloney recalls. "We were going to have more products, and we were going to have more demand from customers. But we were already struggling to meet our deliveries and deliver products of quality. We knew we couldn't keep doing what we were doing."
Looking for ideas, McAloney and Manufacturing Manager Dennis Ho went to a conference on the subject organized by the Association for Manufacturing Excellence (AME).
"It was a five-day conference," McAloney recalls, "and by about Day Three we realized that we had found a new 'religion' on the manufacturing side of our world in terms of how we needed to think about building and delivering product to customers."
NovAtel Builds a Lean Workplace
Convinced that "lean" was the way to go, NovAtel joined a local consortium managed by CME Canada's largest trade association, and they hired a trainer to teach "Lean 101" to every person in the operations group.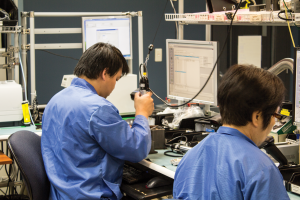 "We spent the day building Lego airplanes of learning," said McAloney. "We learned about onepiece flow and point-of-use material-all these things. So, we started first by training everyone and getting them on board with these concepts... to see what it could do to help us."
Then, starting with one of the its simplest products, an antenna, the company began implementing changes-the first steps on what NovAtel employees regularly refer to as the "Lean Journey."
"We started experimenting with point-of-use material [handling]," said McAloney, "With small batch builds, we were back-flushing material- we started eliminating all the delays and the waste we could think of."
Keeping materials and essential tools close at hand is one of the most important elements in streamlining manufacturing. In fact, a formal lean process prescribes how to organize manufacturing workspaces.
"We had a very, very small work area when we started implementing lean manufacturing," says Ho. So, NovAtel introduced 5S, which stands for Sort, Set things in order, Shine (clean things up), Standardize what you have done, and work out ways to Sustain it, Ho explains. "By doing that, we actually created some space for [ourselves.]"
With more room to maneuver, NovAtel started changing the way work moved through the production process to make it more efficient. Instead of having one person build a complete product on their own, teams work together, each person completing a step and then passing the product on to the next step in its manufacture.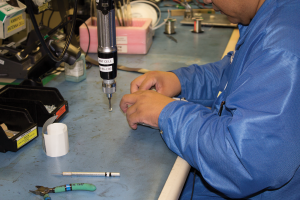 "With lean, we improved the process flow, meaning our product cycle time was reduced significantly," said Ho. With 5S, point-of-use materials handling, and other lean methods, the company has been able to shrink the production lines in some cases down into compact U-shaped cells.
"We've managed to reduce it down to three to four people per cell," says Ho. Meanwhile, the total time to build a product has also gotten tighter as the process has improved.
"We use spaghetti diagrams, where you kind of map where people are moving throughout the day," said McAloney. "And then you look at that and say, 'Well, that's silly. We should move stuff that people use very, very often close to where they needed it to be. And we should change the flow so it all goes one direction.'"
Consequently, NovAtel has reconfigured its manufacturing floor to eliminate the waste of motion and transportation.
Organizing the space effectively and getting rid of steps has enabled NovAtel to speed its production to the point that most jobs are started and completed in one day.
Visitors to the manufacturing space often comment on this quiet aspect, which McAloney explains is due to "the velocity of what is being manufactured." NovAtel has a one-day workin-progress (WIP) model. "We will not start to manufacture anything until we are 100 percent material clear," McAloney says. "And when we [build product], our goal is to start that build and get it off the floor and received into finished goods the same day."
The production floor has moveable, modular furniture to enable it to be reconfigured as needed to make different products. That happens over and over again because the firm shifts production from day to day, depending on demand. In fact, NovAtel does not know what it will be building more than a few days in advance.
"It used to be that people would do hard scheduling," says McAloney. Production managers would forecast what they thought might happen-what customers might want throughout the course a month-and then they would plan when they would build all these things, typically in large batches.
"We don't do that anymore," he says. "We haven't done that for many, many years. Now, if you went out and talked to someone doing scheduling on the production floor, they would tell you, since we're having this conversation on a Tuesday, that they know what they're going to do tomorrow. They know what they're going to build on Wednesday. They do not know what they are going to manufacture Thursday. Because what they're going to manufacture on Thursday depends on what sells between now and then."
The result of all this lean planning is that NovAtel builds what its customers are buying in real-time rather than building what the company thought customers might want a month ago. "It's a really different paradigm in terms of material velocity and being able to react to actual consumption," he says.
Not only does the company not build a product until they have an order, that is until there is "pull" from a customer, they don't order component parts from their suppliers until they need them. In lean manufacturing, this technique is called kanban-a Japanese term for "sign" or "billboard" and refers to the logistical chain underlying production planning.
Sharing the Lean
The Lean manufacturing system extends into NovAtel's relationships with supply partners. This is especially evident in the relationship with electronic service providers such as Creation Technologies Inc. and Dynamic Source Manufacturing.
Stan Krzyczkowski, general manager of Creation Technologies' Burnaby, B.C., manufacturing facility, says, "NovAtel has been a key customer to Creation Technologies for the last six years. Together we have been able to make many improvements which have enabled NovAtel to better service their customers and win new business. When customers and suppliers are aligned with Lean thinking, they can truly achieve breakthrough results."
"We provide them monthly forecasts for about six months, but then we have an agreement with them that they are working to produce only against actual customer orders" says McAloney.
"As we use product on the production floor today, say a particular circuit card assembly, this evening we will send them a pull request to replenish the material we used today. So, they get the information the same day the material is being consumed."
NovAtel also has service-level agreements with vendors on how quickly these are replenished. At the circuit card level, for instance, that is on the order of about 10 days, McAloney says. With product-level builds happening in five days, McAloney estimates that the company only needs finishedgood buffers of perhaps two weeks to provide near-real-time delivery of products to customers.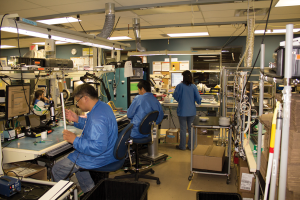 "You can only get away with this if you have oneday WIP," he adds. "So, if you're using the parts and then recognizing that you used them the same day, it's okay. If you're going multiple days and not recognizing that you are using the parts, you're going to run into some serious trouble."
The one-day WIP, used in conjunction with the kanban system, means that products are built to specific orders from the start, and customers get what they ordered faster.
"In the old days, when we were doing a 'push' system, we could only react in, like, 14 days," said Ho. The firm would build up a lot of inventory, which would have to be sorted through and modified to meet orders.
With a pull system, NovAtel only builds products when it has an order, and any changes are incorporated as products are built. The result, Ho says, is that delivery time is now down to two days after receiving an order.
And sometimes even less.
"It used to be that we were quite pleased that we had 90 percent on-time delivery to our promised dates...to customers," Ho says. "About two years ago, we decided that it really didn't matter what we are promising for delivery dates-we were setting our own target and meeting it. What really mattered was when customers wanted product."
Now NovAtel tracks the customer request date or CRD-the date the customer wants to receive the ordered products. That has produced a 95 percent or better rate of on-time delivery in an environment where about 70 percent of the company's customers want next-day delivery.
With more than 200 products and the ability to rapidly reconfigure production, NovAtel experiences little manufacturing line downtime despite rapidly changing orders. Forecasts are done product by product, and the company is able to absorb a 50 percent downturn or a 100 percent upturn in demand for any given item in the normal course of business. Although most orders are built in small batches, the firm has the ability to add a third daily shift or flex into the weekend to accommodate large purchases.
"When you look over an entire month, month by month, we need about the same amount of work hours," says McAloney. "So, what we have is a very well trained and flexible workforce that can do almost any of the jobs on the manufacturing floor. They just flex into whichever work cell or whichever kind of work activities we need in order to do the work [required for] that particular shift."
Quality Stakeholder Relationships
The partnerships NovAtel has with its customers and suppliers extend to the way it handles quality control. The company works closely with customers to understand how its products are actually being used and reconfigures its testing to reflect that-adding a Bluetooth test, for example, or one for a different type of communications link. NovAtel will even lend out test equipment to help clients track down the source of glitches. One of NovAtel's key partners in the supply chain is Electronics Manufacturing Services provider Dynamic Source Manufacturing Inc. (DSM).
"Our manufacturing relationship with NovAtel goes back 13 years," says Duane Macauley, President of DSM. "The cornerstone of this partnership has been the implementation of Lean/6Sigma initiatives, such as Kanban pull systems, Continuous Improvement Teams and cost reduction programs. Through mutual cooperation and collaboration we have created the necessary conditions for both our companies to achieve long term growth and enhanced economic competitiveness, with metrics that always focus on customer benefit."
When there is a problem, defective parts are returned to NovAtel for repair/replacement, triggering a formal process to diagnose the problem and find a permanent fix.
"Quite often when you are servicing a commercial type electronic, you are looking to resolve the immediate problem-to fix the units or devices you are working on currently in order to maintain service," said Bryan Heric, the company's senior supply chain manager.
"In our 'lean' culture here at NovAtel," Heric continues, "when a single problem happens- maybe something [of which)] we buy 1,000 a month and one particular unit has a problem- we don't just try to fix that problem on that unit, we actually try to understand what the cause of that problem is and go back into the process at the suppliers and actually change the process to remove that potential quality issue on all future production."
With the repair department co-located with the engineering and design staff, the feedback is nearly instantaneous. In once case, recalls Jeff Orvis, NovAtel's repair manager, a manufacturing team noticed an intermittent failure in a product. They worked with their supplier to trace the issue back to cracks in a solder joint that showed up depending on how the board was used and tested.
NovAtel worked with the supplier to change the heating and cooling process for the solder and the accompanying physical testing - not only for the product in question but for five other products and for all new designs supplied by that vendor.
Lean manufacturing requires a certain amount of trust and a lot of open communication. NovAtel has opened up its data sharing across the company so that everyone is aware of what others are doing.
"There's a lot more open communication between everybody," says Sherry Scott, data management team lead at NovAtel. "So, everyone kind of knows what everyone's working on we're all aligned"
And that includes the suppliers, she adds, "The vendors know what the levels of stock should be so that they know to send more. It is very open communication right through the supply chain."