TerraStar X Technology, RTK From the Sky™
The following is from "TerraStar X Precise Positioning Enables Autonomous Applications", presented by Sara Masterson at Multi GNSS Asia, 2018.
Autonomous technology is reshaping the future of mobility and transportation worldwide, and Hexagon's Positioning Intelligence division (Hexagon PI) is developing cutting-edge positioning solutions to support the growth of this technology.
In June, Hexagon PI introduced TerraStar X GNSS correction technology, which enables centimeter-level accuracy in under a minute. Built on the company's latest Precise Point Positioning (PPP) algorithms, TerraStar X leverages existing Hexagon capabilities in ground network infrastructure, correction data generation and data packaging for delivery. TerraStar X also enables integrity and authentication for safety-critical applications like autonomous driving and aviation.
How It Works
TerraStar X combines existing TerraStar global clock and orbit data with regional ionospheric correction data from Hexagon's vast network of HxGN SmartNet reference stations. This forms the technology foundation for future correction services that deliver RTK From the SkyTM, enabling lane-level positioning on connected cars, Advanced Driver-Assistance Systems (ADAS) and autonomous driving markets.
HxGN SmartNet consists of a large operational reference station network, consisting of more than 4,500 stations with continuous quality monitoring support. Correction data generation takes place at Hexagon processing centers where service reliability, redundancy and 99.999% guaranteed service uptime ensure corrections are available for users 24/7/365. While TerraStar X utilizes the stations already available, the algorithms are flexible and will accommodate the rollout of new service areas with increased station separation, enabling continental-scale coverage.
TerraStar X technology also offers hybrid delivery channels, including both cellular network and satellite.
Other Applications
Hexagon has been providing highly reliable, precise GNSS corrections for over 20 years. Our GNSS correction services empower world leading companies within precision agriculture, survey, marine, oil and gas, automotive, and transportation applications. Using the NovAtel® OEM7 family of receivers and TerraStar X technology combined with multiple delivery channels, users in these established applications will also have access to RTK from the SkyTM performance.
Proven in Testing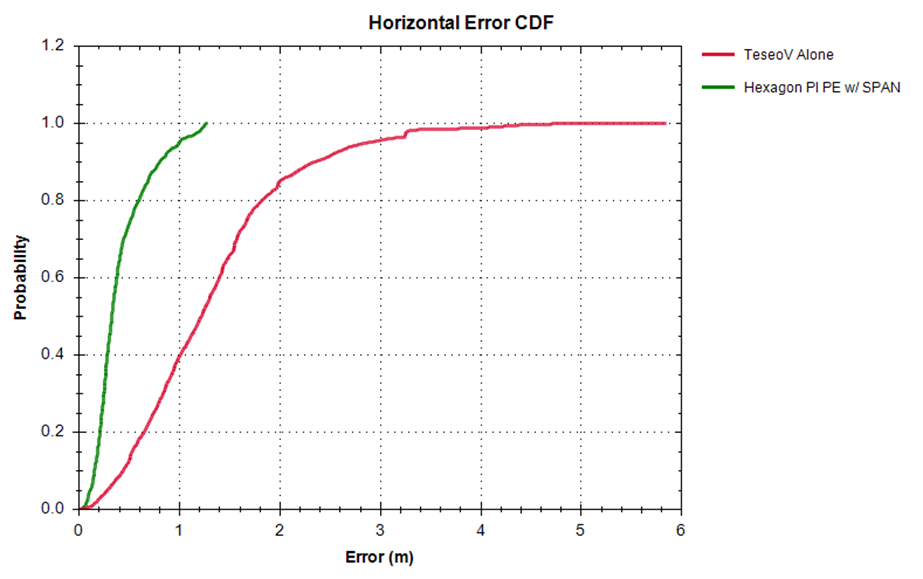 In tests using automotive-grade chipsets, the PPP solution with TerraStar X corrections demonstrates a 64 – 93% horizontal accuracy improvement over the onboard SBAS corrected solution under an open sky condition at a 95% confidence interval.
TerraStar X testbeds are currently being utilized for several advanced AD development programs in North America and Europe, and access can be made available for interested customers.